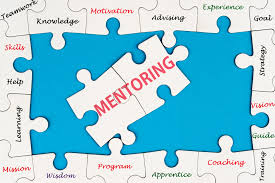 Rightly said, "Mentoring is a brain to pick, an ear to listen, and a push in the right direction." 
Mentoring! We have been discussing and writing a lot about it. Till now, you might have heard that mentoring is a powerful personal development tool that helps individuals empower themselves. But, we say that mentoring is a 2-way development tool that helps both the mentees and well as the mentors grow and succeed. On a broad scale, it also helps all those people who are indirectly associated with a mentorship programme.
Check out how.
What's in it for Me?
"Mentoring is something that allows you to see the hope inside yourself irrespective of your role."       ~ Almabay. 
Mentoring tend to be voluntary on both sides, wherein it benefits the learners and the leaders. The best part is that mentoring relationships are usually unpaid. The idea behind mentoring is, the more successful the mentor, the more he/she wishes to pass on what they've learned to someone else who will benefit from their experience.
A mentoring programme can have great benefits for both parties.
For the mentees, there are many opportunities to explore their learning and benefit from their mentor's focus and expertise, be it in a specific subject or simply in supporting the learning process.
Often when we're busy, learning and development get pushed to the bottom of our  'to-do' list. Here, mentoring brings it forward again. With mentoring, learners can
Learn from the real life experiences of their mentors.
Understand potential issues and concerns and learn how to deal with them in life.
Explore their career development plans with the right guidance to make right choices.
Align your own development to the company's performance culture.
Learn about effective networking and how to make use of it.
Learn to be more open and comfortable with people of different backgrounds, authority, and experience.
Build and boost greater confidence, individually and within your organisation.
Enhance the knowledge graph in education and life.
For the mentor, the advantages may be more subtle.
For a mentor, it is always good to feel that they are doing something valuable in supporting others. It also puts them in a constant learning and evolving phase. In addition, mentoring  may also be a useful opportunity to work on a leadership style, especially coaching, or other communication skills.
Increase their profile and professional networks.
Attain personal satisfaction by making a difference in others' life.
Learn and develop interpersonal and leadership skills and enhance their knowledge base.
Explore reflective space in a hectic daily schedule.
Hone their listening skills.
Wrap Up 
So, it can be concluded that a good and productive mentoring programme with the right mentors can offer huge benefits to both the parties. Hence, it is worth enough to invest time in finding a suitable mentor for learning and developing your skills and build a career that you have been dreaming of.